Train My Dog To Be A Model Or Canine Actor
Online Dog Training Australia-Wide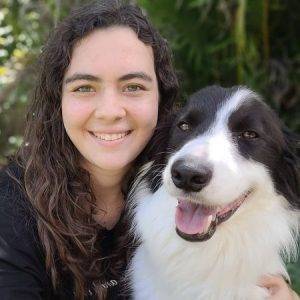 Online Dog Training
Online Dog Training, Behaviour & Tricks
Looking for some dog training help? Book a zoom session with Charlote Bryan and get helpwith aspect of dog training including dog tricks!
Training Humans To Train Dogs.
Follow Charlotte on instagram & Facebook
@TheCharlotteBryan
Dog Training
Dog Trainer Charlotte Bryan provides online dog training/behaviour sessions that cover all aspects of dog training from behaviour concerns through to trick training.
Online Dog Training can be done via:
Zoom
Whatsapp
Skype
Google Meet
Other – I'll use your system
Do you have these dog "problems"?
My dog is out of control
My dog keeps running out the door
My dog doesn't listen to me
My dog is always barking
My dog is aggressive
My dog lunges at other dogs
My dog is scared of water
Please don't assume that your dog will grow out of any "bad habits" it currently has. This is a popular myth when it comes to dog ownership and unfortunately most of the time these "problems" don't fix themselves. You need to make change happen and you can do this yourself or, if you don't know how to then feel free to book in a consult with Dog Trainer, Behaviourist and Top Dog Trick Instructor Charlotte Bryan.
Charlotte can help you and these more in an easy-going low-stress video meeting. Train your dog from the comfort of your home with Charlotte's help!
How Do Online Dog Training or Dog Behaviour Consultations Work
The online meeting itself will be 1 hour in duration but prior to that Charlotte will request specific information about the issues you are facing with your dog so that you will get the most out of the meeting, and following the meeting Charlotte will send you a copy of the video so you can view it later and a summary with some key action points.
How Do You Start – What is the process?
Fill out the enquiry form on my Contact page and ask any questions you may have.
If you want to book a session, I'll ask you to fill out a questionnaire and select a time suitable for you. To get the most out of your dog training session, fill out the questionnaire as accurately and as detailed as you can, and where possible submit a video of the problem behaviour. This video will be reviewed before your behaviour session and training feedback will be provided.
You will be sent a link inviting you to your scheduled session prior to the session – and you simply accept the invitation on the day of your scheduled meeting.
After the meeting has been completed (which will be recorded if possible) and you'll receive a report with an action plan and additional recommendations.
How Much Does An Online Dog Behaviour Consultation Cost?
Behaviour Consultations normally cost $100. However as April is our start up month, all consultations will be $50 each! So make sure you take advantage of this fabulous dog training offer and book in now!
Charlotte recommends Zoom For Your Online Dog Training Session
What YOU Need To Do To Book An Online Zoom Session:
Fill out the questionnaire as detailed as you can – click here.
Video the problem behaviour, upload the video to YouTube (set it to "Unlisted") and send Charlotte the link to the video.
Open an account on zoom (https://zoom.us/) for free and download & install the Zoom software on your computer. You can use a phone or computer however you must have a working webcam and microphone.
Ensure you have received a Zoom Invite link.
Five or ten minutes before the meeting, click on the Invite link which will open Zoom and wait for Charlotte to open the meeting. While you wait, please ensure your microphone is UNMUTED and your camera is switched ON.