Assistance Dog Training
Sunshine Coast
Looking To Get Or Train A Service Dog Or Assistance Dog?
NOT CURRENTLY TAKING ON NEW CLIENTS
Assistance Dog Training Sunshine Coast
An assistance dog is a dog that is specifically trained to assist an individual with a disability.
An assistance dog (or "service dog") are either trained by an authorised organisation or by the handler of the dog with the help of a professional trainer qualified under the Queensland Government's legislation.
A dog can only be certified as an assistance dog once tested and certified by an authorised trainer or training organisation approved under the Guide, Hearing and Assistance Dogs Act 2009.
What Do I Need To Teach My Dog In Preparation For The PAT
We have developed an online course to give you more information surrounding the PAT, including:
Assistance Dogs vs Therapy Dogs
Types Of Assistance Dogs
What you're judged on during the PAT
What information you need to supply your Evaluator during the PAT
What Is The Process For Training & Certifying Your Dog As An Assistance Dog?
About The Public Access Test
What are grounds for FAILURE of Public Access Test?
Extra Information About Passing The PAT
Assistance Dogs Tasks & Behaviours
Assistance Dog Legislation & Access Rights
To enrol in the course, click here.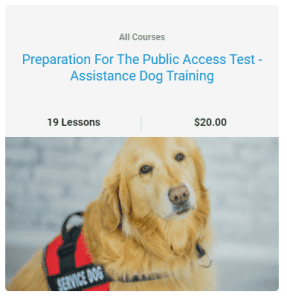 AM I LOOKING FOR A THERAPY DOG OR AN ASSISTANCE DOG?
How Do You Start – What is the process?
Get in touch with Charlotte via the enquiry form on our contact page.
Charlotte will then send you a questionnaire so you can share a bit about your goals for your assistance dog.
Charlotte will book in a date and time for your initial consultation where you can make a plan about training your service dog.
Charlotte can help you train your assistance dog or service dog. At this stage, Charlotte is UNABLE to CERTIFY your dog.