Dog Training Sunshine Coast
Private Dog Training Lessons In The Sunshine Coast
Looking For An Experienced & Qualified Sunshine Coast Dog Trainer?
Looking for some dog training help or behaviour modification? Book a session with Qualified Sunshine Coast Dog Trainer & Experienced Dog Behaviourist Charlotte Bryan today!
Training humans to train their dogs.
"My dog who is very nervous around people,loved Charlotte. The lessons are very informative not only teaching my dog but myself as well. Charlotte gives a written report on Dusty's progess and what we will do in future lessons."
– Donna S with Dusty
Dog Training Sunshine Coast
Sunshine Coast Dog Trainer Charlotte Bryan is offering private dog training sessions on the Sunshine Coast.
Charlotte has got a Certificate in Dog Psychology, Behaviour & Training and first started training dogs when she was only 12 years old. She is also a Certified Dog Trick Instructor (CDTI) and a Certified Canine Conditioning Fitness Coach (CCCFC).
Charlotte has a passion for helping dogs and their people strengthen the bond they share and is adamant about putting the wellbeing of your dog first. Charlotte's results are long lasting as she always strives to figure out the REASON behind your dog's behaviour.
Charlotte can help you dog with general obedience, leash reactivity, biting, jumping, chewing and more!
Charlotte specialises in leash reactivity, phobias, nervousness and anxiety. She always strives to build up a dog's confidence.
Discounts apply if you book at least four sessions at once.
Have a puppy? Check out our 1 on 1 puppy training or our puppy school pages.
Are You Ready To Make A Change In Your Dog's Behaviour?
Thank you for visiting Paws, Claws & Tails dog training Sunshine Coast!
It's never too early to start training your puppy – we can start your puppy training off the right way or help you with a training or behaviour problem in your adult dog. Charlotte covers the entire Sunshine Coast.
Right now, you've taken the very first step – you have identified that change is required. Now, take the second step – Call Charlotte on 0435 740 077 or email dogtraining@pawsclawstails.com.au.
Puppy Training Sunshine Coast
Get your puppy started off on the right paw in life with Charlotte's Superstar Puppy Program
Sunshine Coast Puppy Trainer Charlotte Bryan is offering private puppy training sessions on the Sunshine Coast.
Charlotte can help you and your new puppy with general obedience, puppy biting, excitable jumping, destructive chewing, puppy hyperactivity and more.
"Charlotte has been amazing for us and our 6 month old Labrador. Charlotte has not only taught us as owners how to help our puppy but has helped him learn new behaviours. Charlotte is very relaxed and friendly who communicates directions clearly. I highly recommend Charlotte's services."
– Rachel C with Rusty
STRUGGLING WITH THESE PUPPY "PROBLEMS"?
My puppy won't settle down
My puppy has too much energy
My puppy keeps biting me
My puppy keeps peeing inside
My puppy keeps crying
My puppy keeps pooping in the house
My puppy is scared of everything
My puppy is growling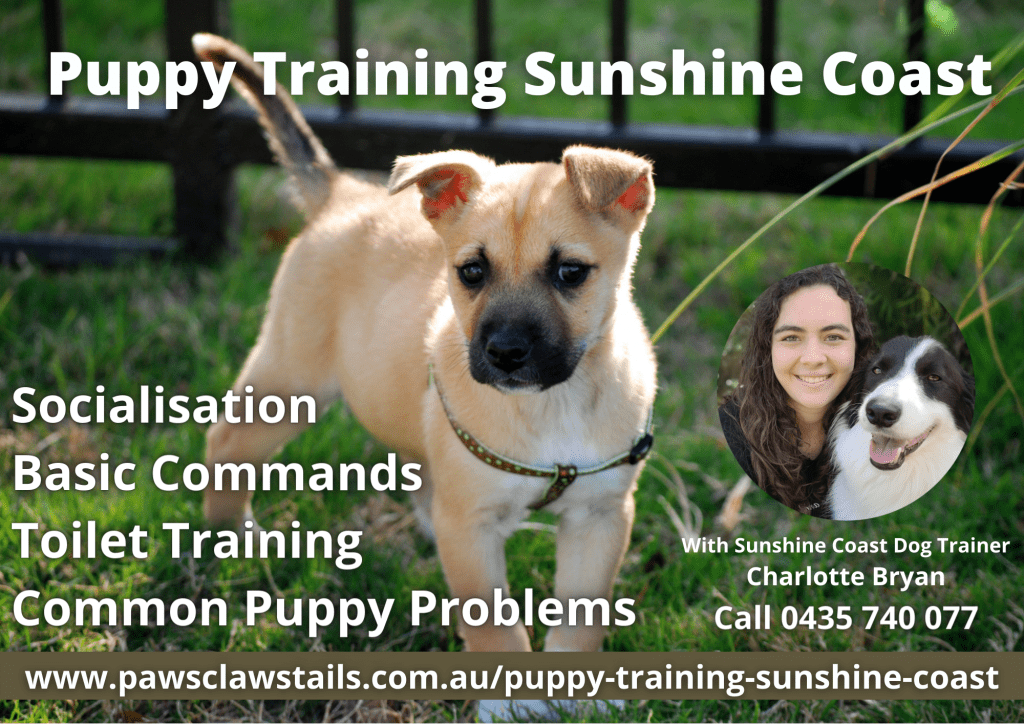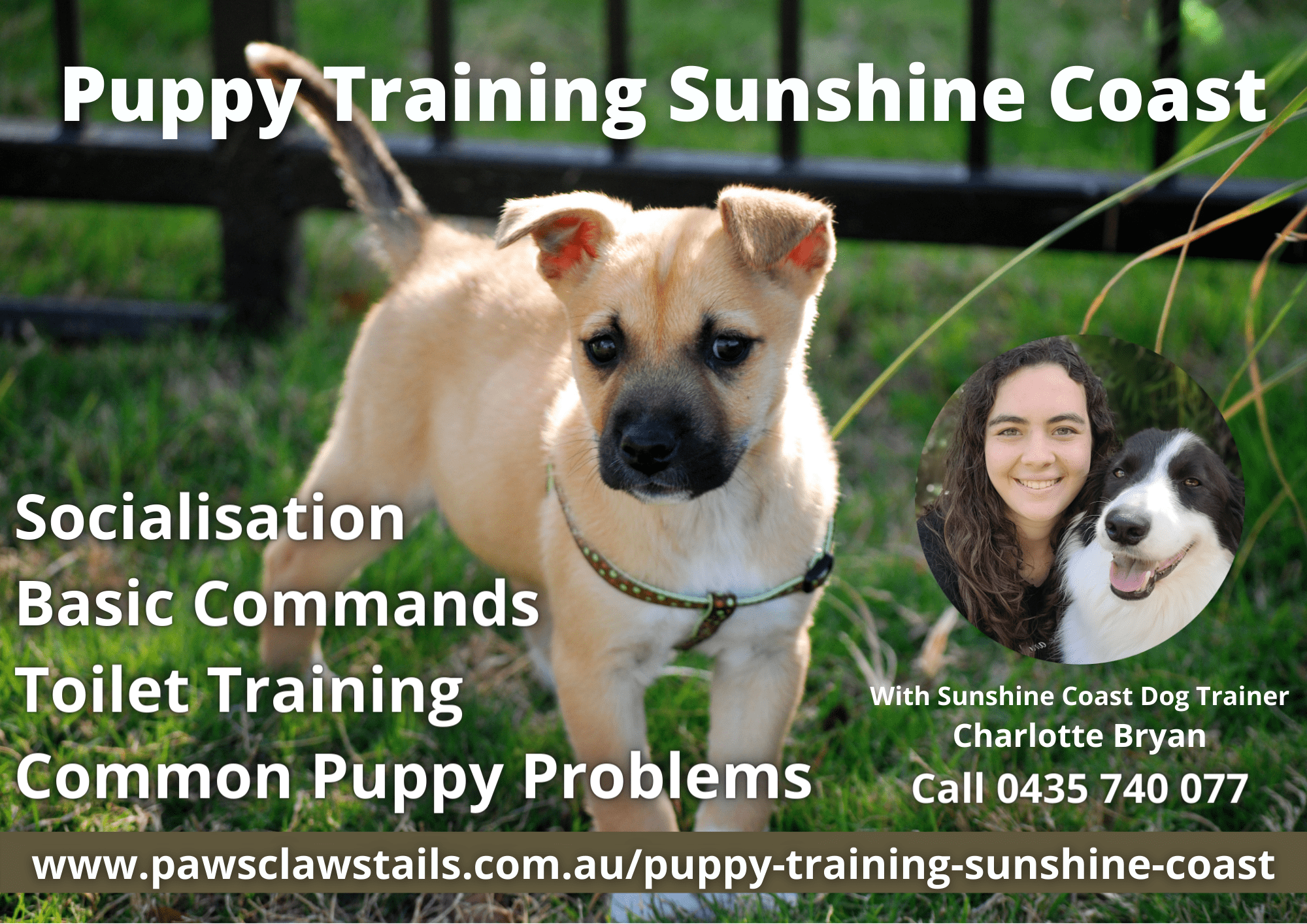 The Key Areas That Charlotte Can Help You With Are...
Begging at the table while you eat
Showing aggressive behaviour to other animals or people
Is nervous and lacks confidence
Barking "uncontrollably"
Not coming when called
Not listening to you when out and about
Howling at inappropriate times
Inappropriate weeing in house
Inappropriate pooing in house
Jumping up on you or jumping up on visitors to your home
Mouthing, nipping or play biting
Excessive paw chewing or licking
Noise phobias – fear of fireworks, fear of thunderstorms
Poo eating
Digging your garden or flower beds
Is doing compulsive behaviours like tail chasing
Is pulling on the leash
Is lunging at other dogs while you're walking
Food guarding or resource guarding
Has separation anxiety
Whining for attention
Marking in house
Mounting
Herding people and other animals
Inappropriate chasing – chasing cars, bikes, skateboards etc.
Jumping on furniture
Escaping your property
How Do You Start – What is the process?
Call 0435 740 077 or email dogtraining@pawsclawstails.com.au.
Charlotte will email a questionnaire for you to fill out to give Charlotte a clearer picture of your dog's history and the problem behaviour.
Charlotte will arrange a date and time for your first session so she can get to know you and your dog and so she can see what the problem behaviour is.
During your first session, Charlotte will observe the problem behaviour, give you some tips that you can implement straight away and suggest a plan to improve the behaviour going forwards.
After the meeting, Charlotte will email you a summary of what was discussed and the plan going forwards.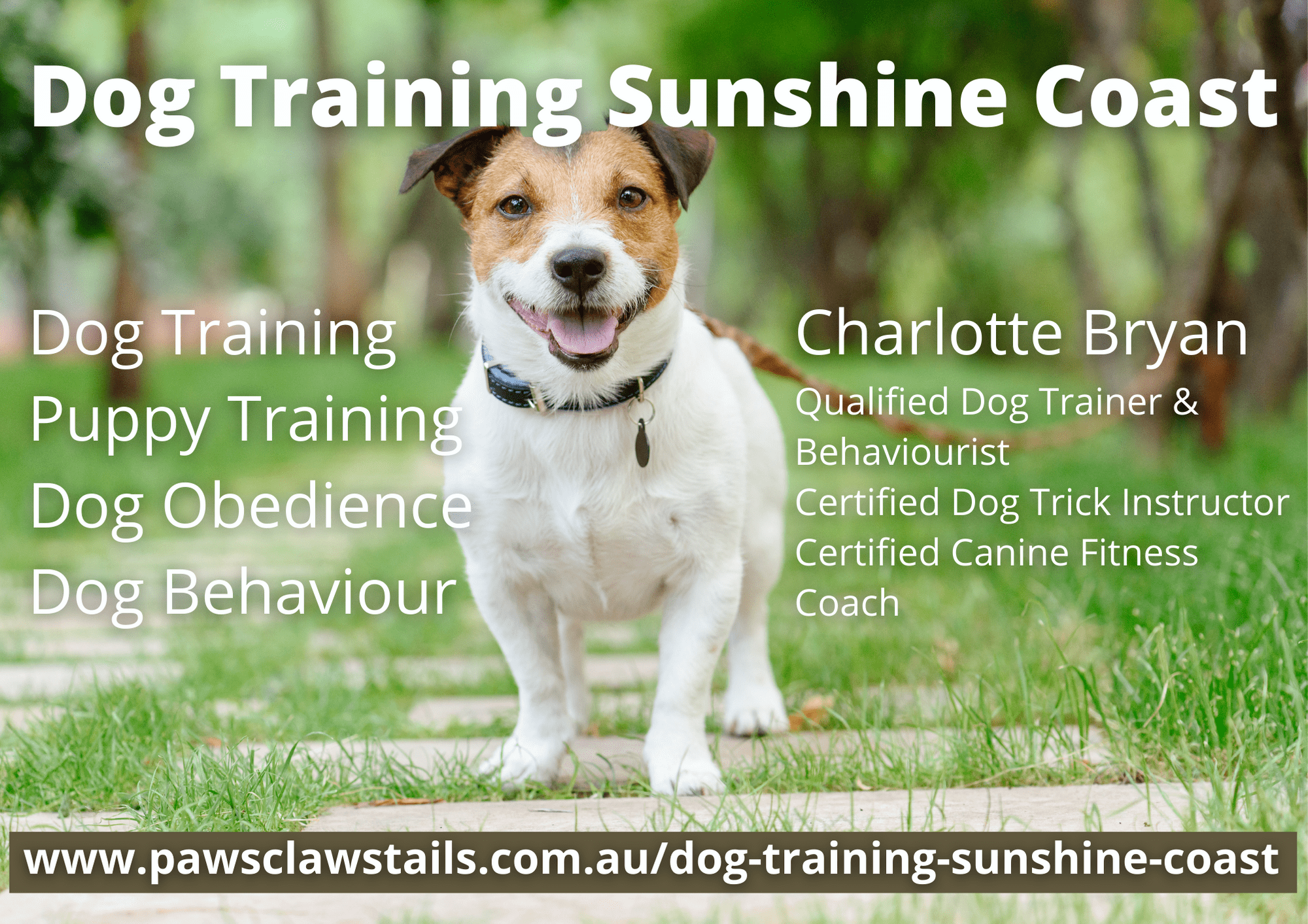 Reactive Dog Training Sunshine Coast
Struggling with your dog's reactivity?
In simple terms, dog reactivity is when your dog over-reacts to the environment around them or the situation they're in. Common behaviours displayed by a reactive dog include: barking, lunging or growling (among others). Reactivity can be caused by a number of things, the more common ones are:
A lack of adequate socialisation during the dog's critical development period as a puppy
A negative experience with a dog, person, situation etc (especially during the critical development period as a puppy)
Reactivity can also stem from a dog's genetic makeup – a dog that is inherently more nervous is more likely to react to their surroundings.
If your dog is reacting as a result of a bad experience or lack of socialisation then Charlotte can help you first identify the cause of your dog's reactivity and provide you with some tips that you can implement to help improve your dog's reactivity.
If your dog is inherently a more nervous dog then Charlotte can show you how you can help reduce their overall anxiety through building their confidence.
Border Collie Training Sunshine Coast
Struggling with your Border Collie?
Whoever said "Border Collies are the easiest breed to train" clearly never owned one. Border Collies are a very special breed – with their intelligence comes an increased sensitivity and as a result these dogs require a different type of training and handling to many other breeds. Therefore, you need a different type of dog trainer – one who is familiar and experienced with the breed.
Border Collies are not suitable as your average pet – they require a job to do and if these needs are not fulfilled then they can become bored, destructive, hyperactive and hard to live with.
Border Collies are very intelligent animals. Yes, they can pick up new tricks and commands very easily. But this intelligence means they pick up bad habits just as quickly as good ones. Their intelligence also makes them extra sensitive and therefore they can be more prone to nervousness, phobias and anxiety more so than other breeds.
Charlotte loves Border Collies and she currently has a beautiful one of her own. Charlotte can help you with your Border Collie
Do you need help keeping your Border Collie mentally stimulated?
Do you struggle to calm your hyper Border Collie down?
Charlotte can help – Click the button below to enquire now.
Jack Russell Training Sunshine Coast
Struggling with your Jack Russell?
Jack Russells are great little dogs! They're an odd mix of being both easy and difficult to train – that's just the way they are. At times, they can be "stubborn" but training them is very rewarding!
What we must remember when we're training Jack Russells is that they are terriers. And terriers require a leader and consistency with their training. Do you need help training your Jack Russell? Charlotte can help – Click the button below to enquire now.
Dog Obedience Training Sunshine Coast
Simply looking for a dog trainer to help you and your dog with the basics like sit, down, stay, come, heel? Sunshine Coast dog trainer Charlotte can help you with these basic obedience commands and more including "Go to your bed".
Rescue Dog Training Sunshine Coast
There's nothing more gratifying than adopting a resuce dog – you're giving a dog another chance in life. Rescue dogs are often called "the best breed" of dog and it's easy to understand why – shelter dogs have so much love to give. Unfortunately shelters and rescues often don't have enough volunteers to give every dog they rescue that one on one training time. As a result, rescue dogs can develop some bad habits while they wait for their forever home.
Have you recently adopted a rescue dog? Book a session with Sunshine Coast Dog Trainer Charlotte Bryan and get some help integrating your new companion into your home so the transition is as smooth as possible for both you and your new dog.
Dog Trainer Sunshine Coast - Locations
Dog Training Mooloolaba
Dog Training Buderim
Dog Training Mountain Creek
Dog Training Kawana
Dog Training Warana
Dog Training Minyama
Dog Training Caloundra
Dog Training Palmview
Dog Training Sippy Downs
Dog Training Baringa
Dog Training Nambour
Dog Training Alexandra Headlands
Dog Training Buddina
Dog Training Mons
Dog Training Forest Glen
Dog Training Tanawha
Dog Training Brightwater
Dog Training Bokarina
Dog Training Birtinya
Dog Training Forest Glen
Dog Training Kunda Park
Dog Training Kuluin
Dog Training Twin Waters