Dog Agility
Sunshine Coast
Engage Your Dog's

Mind and Body

, Create

Lasting

Memories
Join Our Weekly Dog Agility Lessons – Come As Often As You Like. Don't Get Locked Into A 6 Week Course.
Physical and Mental Stimulation: Dog agility provides a holistic form of exercise that engages both your dog's body and mind of your best friend. The variety of obstacles and challenges stimulate their cognitive abilities, keeping them mentally sharp while promoting physical fitness. This dynamic combination contributes to a happier and healthier dog overall. It also aids in handler fitness and mental stimulation!
Bond Strengthening: Participating in dog agility fosters a unique bond between you and your canine companion. Through teamwork and shared experiences, you both

learn to communicate better

, building a deeper sense of trust and understanding. This collaborative environment enhances your relationship and reinforces the notion that you're not just an owner, but a partner in fun and adventure.
Confidence Boosting: As your dog conquers each agility obstacle, their self-confidence blossoms. Overcoming challenges and successfully navigating the course instils a sense of achievement and pride. This newfound confidence often translates into improved behaviour and responsiveness in various situations, contributing to a well-rounded and socially adept dog.
In essence, dog agility offers an enriching experience that goes beyond mere physical activity. It's a platform for holistic growth, fostering mental acuity, nurturing bonds, and boosting confidence – all while having a blast together.
Unlock the Benefits: Discover What Sets Our Weekly Puppy Socialisation Service Apart!
PREMIUM QUALITY DOG AGILITY EQUIPMENT
By exclusively utilising premium quality dog agility equipment. From ramps that ensure safety to tunnels designed for excitement, our top-notch equipment guarantees an engaging and secure environment for your furry friend to thrive and enjoy every agility session to the fullest.
EXPERIENCED DOG TRAINERS
Our team of experienced trainers stands as a cornerstone of your dog's agility journey. Certified in dog training and well-versed in the art of agility, we bring a wealth of knowledge to each session. With a keen understanding of both canine behaviour and the intricacies of agility training, our trainers provide patient guidance, tailored exercises, and a positive environment, ensuring your dog's progress, safety, and joy at every step of their agility adventure.
SMALL CLASSES (MAX. 3 DOGS)
Embrace the power of focused attention with our small classes, accommodating a maximum of 3 dogs each time slot. This limited class size allows for an exceptional level of personalization, ensuring your dog receives the specialised guidance they deserve. With more agility time and less waiting, every moment counts as your canine companion hones their skills. And here's the bonus – you have the opportunity to directly engage with our skilled trainers, not only for agility insights but for all your pressing dog training queries. It's more than just a class; it's a tailored experience designed for your dog's success and your peace of mind.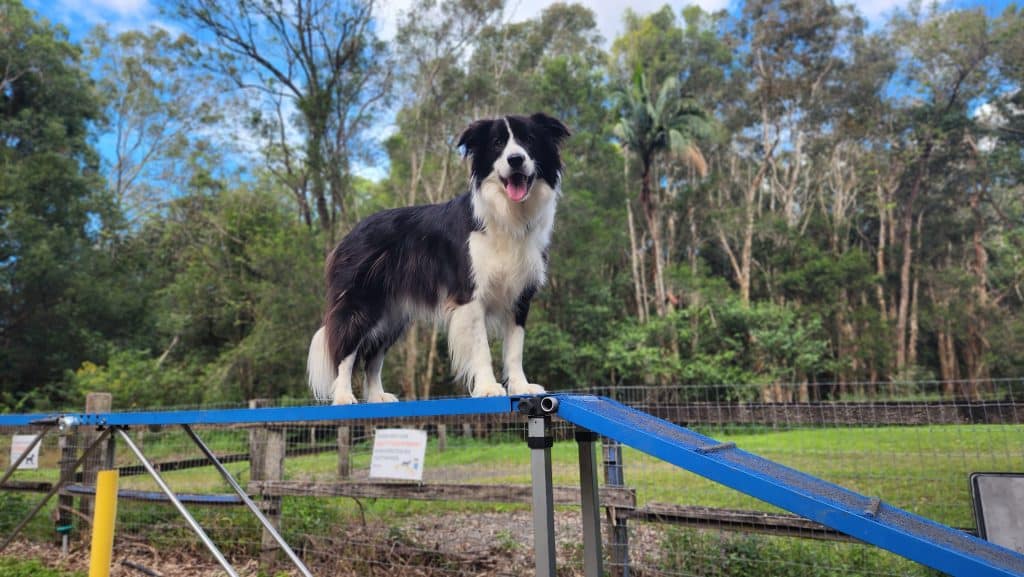 About Our Dog Agility Training
We offer casual dog agility sessions from beginner through advanced on the Sunshine Coast to increase fitness and mental stimulation for your dog. The sessions are run by a qualified dog trainer for 1 to 3 dogs, with premium equipment and a safe, fenced location in Buderim. Book online and attend anytime without committing to a long week to week course.
Whether you're brand new to agility or have done some lessons, owners and dogs of all breeds, ages, sizes and levels of training are welcome!
Does your dog have too much energy? Do you want to keep them mentally stimulated and fit? Do you want to try something new and fun with your dog? Dog Agility could be for you! Tap into your dog's natural instincts of running and jumping, whilst enhancing your bond with your dog and improving their focus and off leash reliability.
Get extra tips and tricks from a qualified dog trainer while you have fun.
Premium top quality agility equipment. Safe & reliable. Fully fenced, shaded and located in Buderim.
Days & Times
Our "pay as you go" dog agility lessons are run on Tuesday afternoons and Thursday mornings with our Trainer Arielle. These classes consist of 2 dogs each.  Weekday dog agility lessons are $30 each. Book Weekday Dog Agility Here >
We have also recently opened Beginner dog agility slots on Saturdays – these slots only have one dog each and are run by our trainer Hanne. These lessons are great for reactive dogs. Saturday beginner dog agility lessons are $40 each. Book Saturday Beginner Dog Agility Here >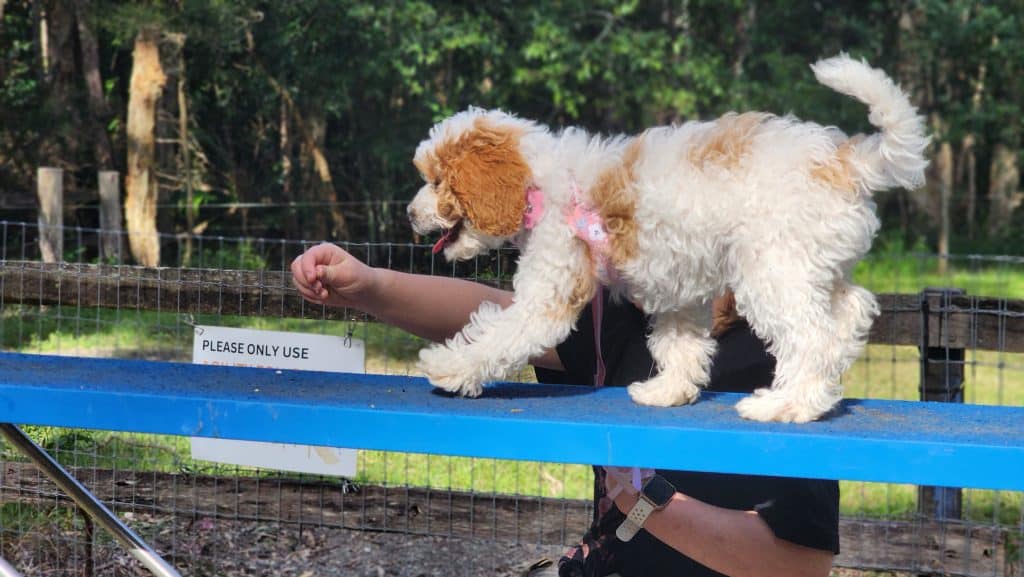 Benefits Of Doing Dog Agility With Your Dog
Improve your dog's focus
Improve your dog's general obedience
Improve your dog's off leash control
Improve your dog's socialisation
Help build your dog's confidence
Improve your dog's fitness including; core strength, muscle development, fat reduction, coordination & balance
Give your dog a physical outlet that is more than just a walk or a run on the beach
Help keep your dog mentally stimulated
Help keep training fun!
Improve handler confidence
Improve handler control
Strengthen your bond with your dog through positive training
Improve your memory, comprehension and ability to learn
Give you a fun way to get some extra exercise in
Keep you mentally stimulated too!
Help you switch off, have fun and de-stress!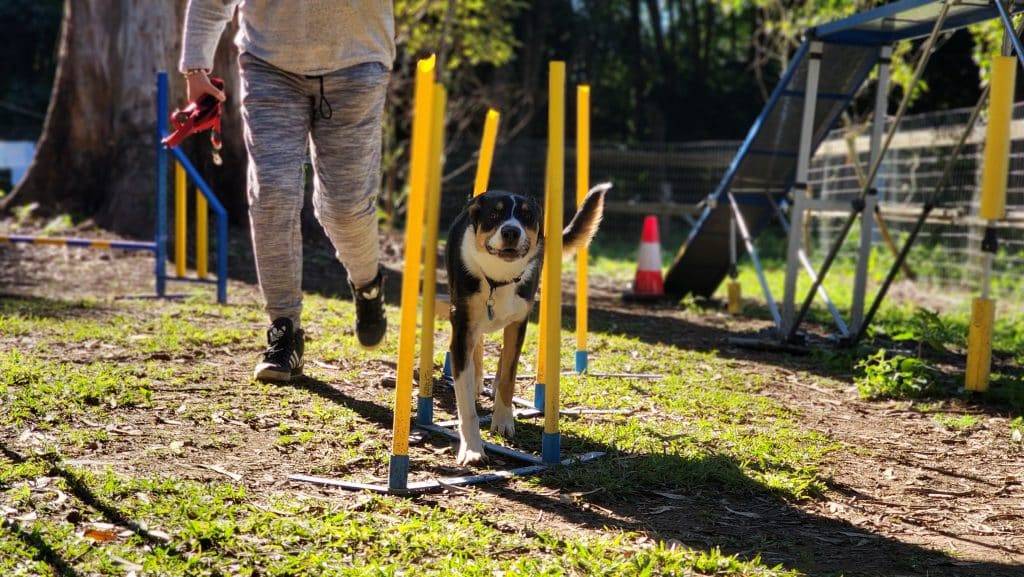 Limited Spots for Maximum Attention!
At Dog Agility Sunshine Coast, we believe in giving your furry friend the attention they deserve. That's why our classes feature an intimate setting with only 3 dogs per session. Why the cap, you ask?
🐾 Focused Excellence: With fewer participants, our experienced trainers can dedicate more time to each dog, tailoring exercises to individual needs. This means your dog receives personalized guidance and swift feedback, accelerating their progress.
🐾 Amplified Agility: Limited spots translate to more agility time. No waiting around, no extended downtime. Your dog gets the maximum out of each session, leaping through obstacles and honing skills without unnecessary breaks.
🐾 Direct Interaction: Ever wished you could ask a trainer a dog-related question on the spot? In our small classes, you can! Engage with our certified trainers not only about agility but any dog training inquiries you have in mind.
We're committed to quality over quantity, and this approach ensures your dog's journey is as effective as it is enjoyable. With limited spots, each dog gets the spotlight they deserve, making every agility moment count.
Secure your spot today and embark on a one-of-a-kind agility adventure that's all about your dog's growth, happiness, and success!
Q: Are your dog agility classes group or individual?
A: Typically we have 1-2 dogs per agility session (no more than 3 dogs are permitted in each class) so you have a high trainer:student ratio to give you a highly personalised experience. We also have the option (for a more expensive price) for you to book out an entire class for yourself (which may be an option for reactive dogs).
Q: How long and frequent are dog agility lessons?
A: Agility lessons are 45-60 mins long (depending on the number of dogs in a class). Classes are run at regular times each week – when you want another session, you can book them as you desire.
Q: Am I committed to coming each week?
A: No, you can come to as many or as few lessons when you want!
Q: Where are sessions held?
A: Our agility lessons are held at our centrally-located, shaded, fully fenced dog training premises located in the heart of the Sunshine Coast.
Q: How do I pay for sessions?
A: Due to popularity, we require an upfront payment to reserve your place in our course.
Q: What do I need to bring to dog agility?
A: To each agility class, please bring a collar or harness, leash, treats and your dog's favourite toy (if they're toy motivated).
Q: Do you offer dog agility during the week or on the weekends?
A: We offer dog agility lessons both during the week and on the weekend.
Q: How do I book sessions?
A: Please visit our "How To Book" page for instructions on booking. Or, if you already know what to do, please visit our "Book Now" page.